Om Studios is a locally-owned yoga and fitness studio offering all-levels of classes that range from warm and sweaty to slow-down and chill-out. We believe that life is meant to be enjoyed and we can't wait to be apart of yours.
We don't take ourselves too seriously and hope that you won't either. At Om Studios we are all about having fun and creating an uplifting community. We do our very best to make our space accessible and welcoming to all.
Every week we welcome people who are absolutely brand new to yoga and group classes. We completely understand how starting something new can be intimidating, especially if you don't really know what to expect in your first class. But don't worry! Although yoga can be challenging, it really isn't about doing the poses "perfectly."
Our teachers are there as guides, but it's up to you to listen to your body and practice at your own pace and comfort level. We look forward to lots of laughs and down dogs together.
✓ Arrive fashionably early! Plan to arrive 10-15 minutes early, and introduce yourself at the front desk
✓ Come hydrated and stay hydrated
✓ Avoid heavy meals before class
✓ Bring your own mat and props ( blocks and straps available)
✓ Notify your teacher/staff of current injuries, discomfort, or anxieties
✓ Turn off all electronic devices and leave outside the studio
✓ Enter the studio quietly
✓ Listen to your body/breath and don't force yourself
✓ Enter restful postures if tired, dizzy, or exhausted
✓ Wear comfortable clothing you can move easily in
✓ Water is available for purchase or bring your reusable bottle to refill
✓ Try these beginner friendly classes: Gentle Yoga, Mellow Flow, Yin + Restore, Pilates 1/2
✓ Avoid wearing strong fragrances
Important Studio Policies:
Please note our Cancellation policy:
Canceling less than 4 hours prior to your scheduled yoga or barre class or 12 hours prior to your scheduled pilates class is considered a "late cancel." If you late cancel or no show your class will be forfeited. Unlimited members will be charged a $15 fee for late cancels or no shows.
Waitlist Policy :
If your desired class is full, join the waitlist! Mornings come early after sleepless nights and meetings inevitably pop-up unexpectedly last minute. As a result, spots become available more often than you may think, particularly last minute and early morning.
When requesting to be added to the Waitlist for a class, Clients:
are encouraged to show-up to the studio to get in to class should another client in class no-show or cancel last minute.

should make sure they are subscribed to email/text notifications in MindBody in order to be notified of getting into class.

Clients who get into class but do not show up to that class will be charged the full price of a drop-in. No exceptions.

As Clients cancel and space becomes available in class, you will be notified by email/text and automatically added to the class.

Once added to class, your spot will be considered reserved and confirmed.
Our waitlist closes 4 hours before yoga/barre classes and 12 hours before Pilates classes. If you do not receive an email or text before the waitlist closes you have not been added. Feel free to check again closer to the start time if there is a last minute cancellation or try showing up, we often have no shows.
LINDSAY
YOGA & PILATES INSTRUCTOR / OM STUDIOS OWNER
Lindsay is a passionate advocate of the complimenting disciplines of Pilates and yoga. Her classes combine the focus, breath and mindset of yoga while maintaining the detail of Pilates instruction. She is dedicated to sharing the joy, challenges and rewards of deep conscious movement with her students. Lindsay is a certified Balanced Body Pilates instructor and completed her 500hr Yoga Teacher Training in 2010. She also leads active breath work group and private sessions.
Jordan
YOGA/BARRE/PILATES INSTRUCTOR & OM MANAGER
Jordan has always loved movement and has credited it to be a powerful medicine. Born and raised in Monterey, Jordan began teaching barre in 2017 after being a student for over two years. She has a fun twist on the classical ballet form to make it the class doable for all ages, and get a killer workout to strengthen all muscle groups for a long and lean physique.
She received her 200hr yoga training while traveling in Bali in 2019 learning Eastern philosophy and experimenting with all limbs of the yogic life. She completed her 300 hour training with Indra Yoga Institute in 2020 and has worked with her teacher with a large emphasis on trauma informed principles.
In addition, she has completed her comprehensive Pilates training and guides us through a well rounded relaxing yet challenging Pilates repertoire. The combination of all of these modalities makes Jordan's classes very unique and empowering to find growth in your day to day practices. 
She is also a certified nutrition health coach from Institute for Integrative Nutrition with a passion for holistic health to heal her clients and does energetic bodywork.
Gennica
YOGA INSTRUCTOR
Gennica Cochran 500 HR RYT, began teaching yoga after attending Mount Madonna School of Yoga in 2010, where she was inspired by the teachings of Baba Hari Dass to live a life dedicated to service and self-study. She has certification in Restorative, Pre-Natal, Classical Ashtanga (Raja) Yoga and completed the 500HR Power, Precision + Mindfulness program with Jason Crandell in 2016. Gennica's classes encourage students to explore their practice with intention by combining breath awareness and skillful movement while also drawing on her love of the earth and cosmos. Each class features threads of inspiration cultivated by the wisdom of the seasons and cycles of the moon, creating a greater understanding of the truth of who we are: powerful, connected, intuitive beings.
Frances
PILATES INSTRUCTOR
A Southern California native, Frances has had twenty years experience in sales and marketing, as well as thirteen years in labor relations, retiring in 2013. She and her husband aspired to make the Central Coast their last place of residency. Once he retired in 2019 that began to manifest; their goal to relocate here where they are most grateful for the journey. The voyage into Pilates began in 2017 with Club Pilates. She practiced five to six days a week, making Pilates a life and full body commitment. She devoted herself to learning the mind, body, and soul connections; experiencing the natural strengthening of not only her body but also her mind. The many people that encouraged her are what ultimately drew Frances to Teacher Training in 2019. She completed her Club Pilates Comprehensive program prior to COVID-19, however her certification was delayed as a result. The principles, physiology, and anatomy are what assured her tremendously. Empowering others to be a part of the Pilates' community and practice, strengthening their mind, body and soul continues to inspire her. The education of Pilates was intended for Frances' own edification, not to teach, however, upon completion, her dedication and commitment did not go unnoticed. At Club Pilates, she began as an apprentice teacher before receiving her certification in October 2020, where she taught until February 2021. In March 2021, Frances was referred to Lindsay Wetterau of OM Studios who continues to enrich her to grow; Frances is embracing this opportunity to teach with the beautiful instructors and staff at OM Studio!
Kelsey Jo
BARRE INSTRUCTOR
Kelsey Jo is a certified barre instructor from the International Ballet Barre Fitness Association (IBBFA). She makes her were way out to the Monterey Bay from Toledo, Ohio where she found her true passion for fitness and the desire to grow as a person. Kelsey Jo graduated from Florida Gulf Coast University majoring in PGA Golf Management and is currently taking continuing education classes at Stanford to work towards her aspirations of becoming a broadcast journalist. Aside from teaching barre, Kelsey Jo is a PGA Golf Professional at Pebble Beach Golf Links. She is certified in TPI (Titleist Performance Institute) where she measures the physical limitations of the body. Reaching towards the next step and awareness are two major areas of focus of hers. Inside and outside the classroom, she is known for smiling and keeping a positive attitude. You will always find Kelsey Jo going the extra mile and motivating her students to set new limits and goals for themselves. Attend a class and leave feeling inspired, confident and strong!
Hannah
YOGA INSTRUCTOR
Hannah received her 200hr RYT training at Om Studios in 2019. Her at- home-practice quickly turned into a true passion, which she plans to turn into a thriving business one day. Om, along with her amazing mentors Lynn and Kiara, created a space for cultivation, healing and a deep love for yoga. Hannah finds joy in encouraging health and strong themes of self-love into each of her warming vinyasa classes. Using feel-good music, Hannah combines heat and dynamic movement through asana to each class. She believes by building strength and igniting the breath, you are able to sink deeper into the body and then the mind. Adding to her passion for health, Hannah loves Ayurveda, in which she is continuing her education at Maharishi University and working locally to learn the techniques for traditional Ayurvedic cooking. Her awareness in movement carries off the matt, with experience in weight-lifting, strength & conditioning training as well as hiking-a happy body is one that is both strong and fluid.Hannah believes we have the power to create health from the inside out through yoga and that's soul work.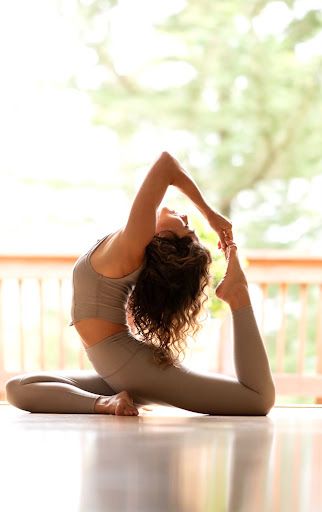 Sabrina
YOGA INSTRUCTOR
Sabrina's teaching focuses on growing body intelligence, tapping into creativity and cultivating inner freedom. Her sequencing is dynamic and focuses on getting grounded in one's inner knowing through movement. Her classes are challenging and will help you grow your practice in a loving way. Sabrina's intention is to guide students towards greater awareness of self, personal transformation and empowerment. 
Sabrina teaches a breath based class with the intention to inspire authentic alignment and individual expression of self. Leading with an inquiry-based approach, she empowers students to realize their full potential and individuality. Sabrina believes that yoga is for everyone and is a lifelong journey of self-discovery both on and off the mat. Sabrina is an advocate for radical self-care.
Linda
YOGA INSTRUCTOR
In my teaching, I enjoy bringing to the yoga mat different techniques and concepts in a playful approach to understand the relationship to breath, body and movement. Utilizing body alignment principles to strengthen, my classes are power vinyasa flows, intermixed with ashtanga asanas, from my Baptiste yoga principles training.
Angel
YOGA INSTRUCTOR
Dream. Explore. Experience. Give. Receive. Grow. Follow your heart. Angel lives her life with passion, a feeling you'll experience as soon as you meet her. Angel has been practicing and incorporating yoga philosophy in her life for over 7 years. She graduated from Om Studios with her 200HR RYT certificate in 2019 and in 2021 received her 300HR RYT. She is passionate about sharing the countless benefits yoga and meditation has to offer and providing a space for all to feel welcome and experience its benefits. She creates a safe space for students to practice at their own individual level so they may find themselves intuitively through their practice. Her classes are fun, creative, and anatomically sequenced with intentional themes emphasizing connecting the mind, body, and breath while letting go of tension and stress. She brings positivity and enthusiasm in all her classes. Angel will inspire you to move through your practice with grace and ease. Opening you up to the most unique expression of you and your best self. Her music selection helps transcend you into your practice so that it becomes a moving meditation. It is Angels intention to inspire and challenge her students to explore a deep mindful practice they can carry with them off the mat and into their lives.
Lynn
YOGA INSTRUCTOR
Lynn believes that life is loud! It can be easy to miss the messages from within because of all the input and activity in the day. Through over 20 years of practice, Lynn feels yoga teaches students how to get quieter regardless of the volume and chaos around them.
Lynn encourages a curious heart and an inquiring mind in her classes. She is known for mixing her thoughtful class sequences, yoga philosophies and eclectic music delivering each class as a one-of-a-kind experience. Lynn blends alignment, anatomy, and energy in her cues so each student can find the shape of the poses that best suits the individual. Through the challenges in class, students can begin to see past their immediate reactions and uncover compassion for the self. Lynn encourages her students to listen to themselves and gracefully ride the ebbs and flow in life with a sense of humor and a light heart.
Lynn has been teaching yoga for over 17 years. She loves an eclectic practice balancing the energy of hot, sweaty vinyasa flow with the grounding of a slow, cool yin class. Lynn has had the privilege of training and mentoring yoga teachers for the last 12 years and is honored to co-lead Teacher Training at Om Oasis.
GEN
BARRE INSTRUCTOR
Gen believes a healthy lifestyle is so much more than just moving your body and eating right. It is about finding joy in movement and feeding the mind, body, and soul. Combining personal insight, precise teachings, and most likely humor, she hopes you walk out of her classes feeling better than you did when you arrived. 
Her love of fitness began in college and has become an integral part of her life. She has been teaching since 2017 and teaches barre, TRX, indoor cycling, and yoga. She graduated from Om's teacher training with her 200HR RYT in March 2023. 
Outside of teaching, you will find her hiking, lifting weights, baking, or focusing on her succulent business. She is also passionate about the environment and serves on the Monterey County Surfrider board.
Dana 
YOGA INSTRUCTOR
When Dana discovered yoga after the birth of her third child, her world shifted from the constant state of doing to the appreciative state of being. As a teacher and student, yoga has informed every aspect of her life, allowing her to gain strength and awareness through equanimity. Her flow classes are influenced by her background as a student of Iyengar and Ashtanga schools of thought. Dana teaches vinyasa, yin, restorative, as well as Iyengar Inspired classes, incorporating her years of study to create a safe environment for any practitioner to cultivate health and well-being.
Her compassion, grace and humor lead students through the challenges of each class. It is her hope that every class affords students a chance to dive deeper into themselves, creating integration of mind, body, and spirit that will lead them to their own sense of greater equanimity. Dana has been practicing for over 22 years, teaching for over 17 years, and is a certified 600hr Hatha Yoga, and meditation teacher. In addition to teaching yoga, Dana is an author of fiction, writing under the name D. K. Silver. The Weight Of Flowers is the first book her four book series exploring where desire, dysfunction and courage intersect.
Amanda
PILATES INSTRUCTOR
Amanda was introduced to Pilates as a rehab tool about twenty years ago while working with college athletes as a Certified Athletic Trainer (ATC). In 2009, she had the opportunity to start practicing on the reformer, and it was love at first class. She loved the mind-body connection and the ability for each individual to work to their potential in the same class. Amanda became certified through Balanced Body in 2011 and has been teaching Pilates ever since. Amanda brings a contemporary flair to every class and loves to incorporate different fitness genres.
 Amanda always reminds her students, "We don't do Pilates to get better at Pilates. We do Pilates to get better at life." The most rewarding part of teaching is hearing how student's mobility, balance, strength, and lives improve with regular Pilates practice. She has a passion to push students to their edge and learn to trust their bodies and especially loves to watch students progress from beginners to seasoned Pilates practitioners.
Amy 
PILATES INSTRUCTOR
Amy believes Pilates is for EVERYbody!  Regardless of one's age, fitness level, or size,  pilates is inclusive and beneficial to ALL Bodies!
Amy began  her pilates journey in 2014.  After taking her first reformer  class she was hooked on the energizing yet relaxing feel of a pilates session.  As an elementary school teacher for 25 + years Amy found many health benefits to regular pilates classes.  In  February of 2020 she started her comprehensive teacher training program with Club Pilates.  As the education world shifted in 2020-2021, she focused on her primary job as a kindergarten teacher.  Slowly but surely  she completed her certification  by August of 2022.  Her comprehensive certification includes 500+ hours of training of mat pilates, reformer, chair, cadillac, and more.  Amy is a patient and passionate pilates educator and seeks to improve your overall health and well being through the transformative methods of Joseph Pilates.  
Naomi
BARRE INSTRUCTOR
Naomi's classes are fun, energetic and always encouraging. She is a certified barre and yoga instructor through OmStudios. Expect an amazing workout and a deep mind body connection from each experience. 
Daisy
YOGA INSTRUCTOR
Daisy Johnson is a dedicated yoga practitioner and instructor, deeply committed to sharing the transformative power of yoga with others. She obtained her 200-hour certification at Center for Yoga in Ann Arbor, where she honed her skills and practiced free-flowing hot Vinyasa.
Motivated by a strong desire to make yoga accessible to all, Daisy went on to create a donation-based yoga program, providing affordable classes & ensuring that individuals from all walks of life could experience the physical, mental, and emotional benefits of yoga.
Following her successful endeavor, Daisy expanded her teaching journey to the picturesque locales of Santa Barbara and Telluride, Colorado. There, she guided students through transformative practices that nourished both body and mind.
Driven by her unwavering belief in the interconnectedness of the body and mind, Daisy relocated to Monterey to pursue a graduate program. Alongside her academic pursuits, she continues to share her expertise in yoga, inspiring others to embrace the virtues of the practice.
With a genuine dedication to holistic well-being, Daisy firmly believes in the power of yoga as a catalyst for healing. She views the body and mind as interconnected entities, recognizing that when one is nurtured, the other flourishes. Through her teachings and personal journey, Daisy seeks to empower individuals to embark on their own path of self-discovery and transformation through the practice of yoga.
JOIN THE LIST
Leave your name and email below to be the first to know about new updates or releases.
STUDIO LOCATION
631 B Cass ST.
Monterey, CA 93940
831.241-5373